There are two main ways to manage leads from your Extu campaigns:
Action leads sent to you in real-time
Review and action leads in the Insights Hub
1. Action real-time leads from your inbox
As soon as a lead opportunity is generated from your campaign, you'll receive an email with information on that contact and the product or article that generated that lead for a quick and easy follow-up.
It contains all the responses and information that prospect/ customer completed.
We strongly recommend you add your sales team to receive these alerts directly and follow up within 5-10 minutes for the best results.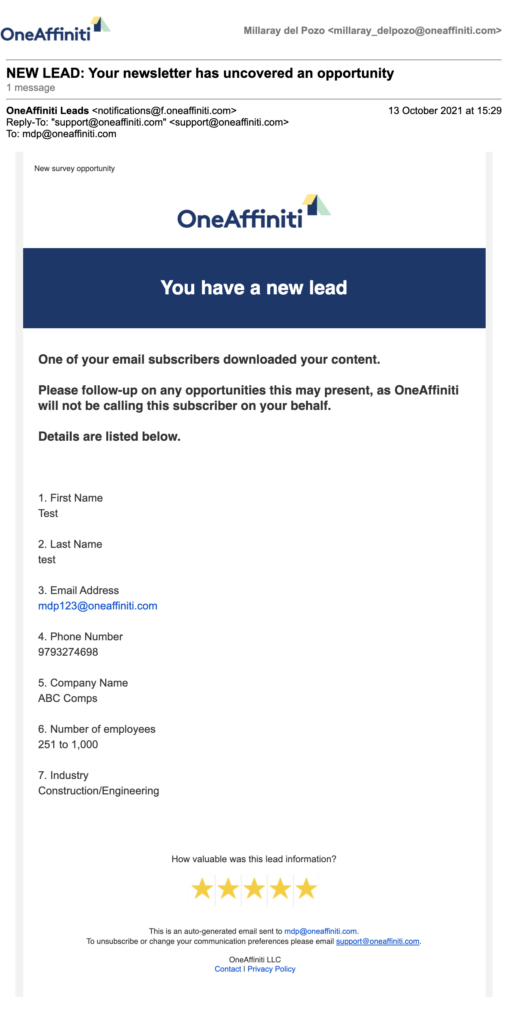 2. Review lead opportunities in the Insights Hub
The Insights Hub is your one-stop-shop for lead scoring, reporting, and opportunity management.  The lead details also include lead contact information and links to the source article to help you follow up as quickly and easily as possible.
Log in to the Insights Hub
Go to the Insights Hub login page where you will be prompted to sign in via Google or LinkedIn credentials.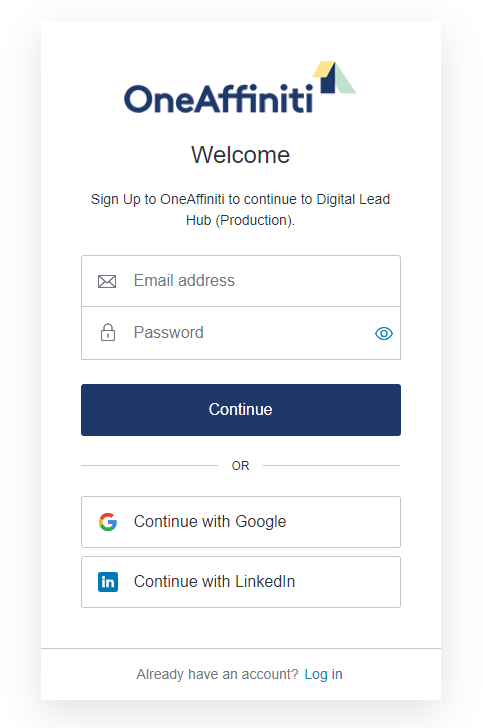 Filter leads on the Opportunity Summary Page
The summary page is the first page you will see after login. You can return to this page by clicking on the Extu logo or the "Summary" text in the header row.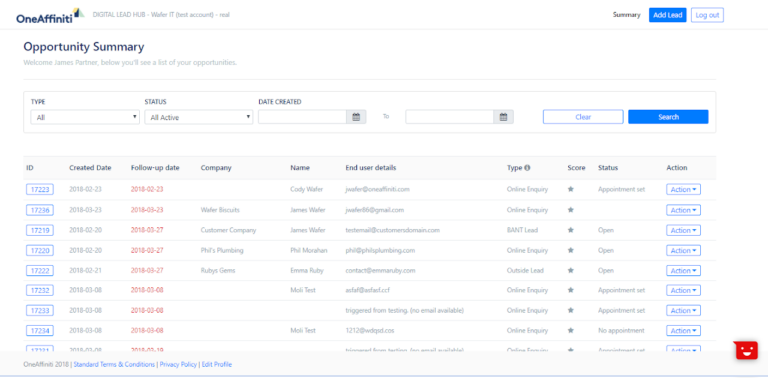 You can apply filters to search for active leads by type and date range to help narrow your search.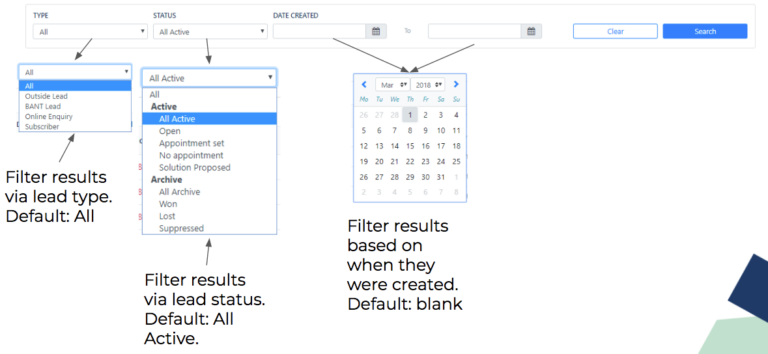 Your leads are also scored from 1-5 depending on their engagement activity with 5 being the top priority and 1 being the lowest.
Scores 5: BANT* Leads created in the last 30-days are deemed ready for the next stage in the sales process as the customer has identified budget, authority, needs and timing. You should review the lead details, including the topic of source article, and make contact asap.
Scores 3-4: These are subscribers who downloaded content like ebooks, white papers, etc., but don't have BANT information. These leads have shown more interest in a product or topic and are progressing in the buyer journey. Leads created in the last 30-days should be reviewed and contacted asap with more relevant information.
Scores 1-2: These are subscribers who open and click on your campaigns. These contacts have shown some interest in the topics or products in your campaign but are early in the buyer journey. We recommend you review the engagement metrics for these subscribers like opens, clicks, and bounce rates and update your subscribers to ensure your campaign is targeting the most relevant people.

View the Opportunity Detail 
The opportunity details page is accessed via either clicking on the ID number or selecting the "Edit" option from the actions list, on the Summary Page. Click into an opportunity page to see details of lead details including:
Contact information
Lead source information like what article they clicked on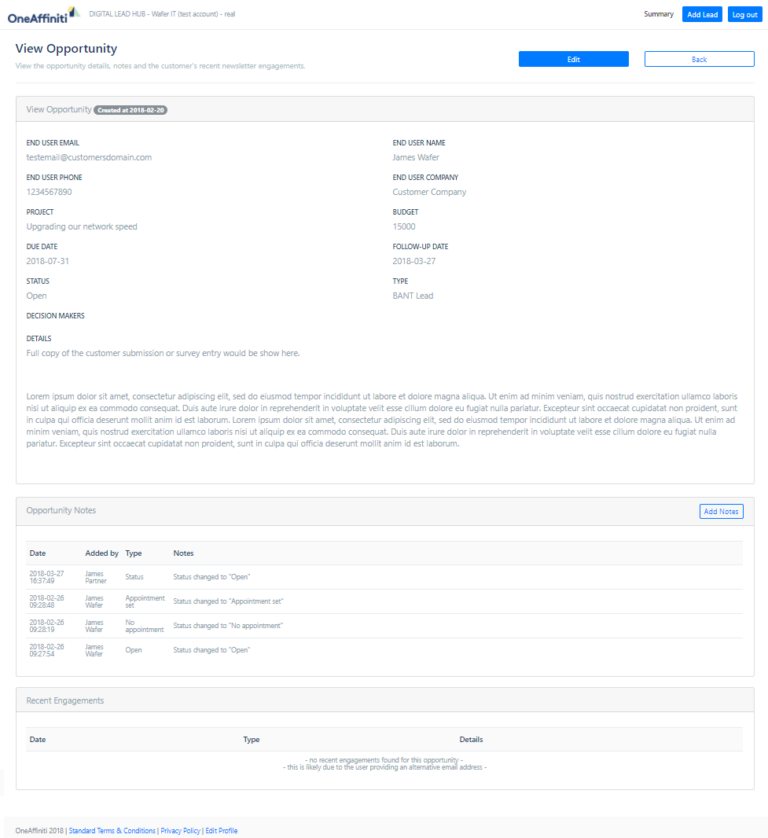 Update Follow up Status and Add Notes
Your team can add notes during follow-up as well by clicking on the "Add Notes". The notes allow your team to track activities + serve as an automated log for 'Status' changes. Based on the user logged in, the "Added By" will automatically be entered.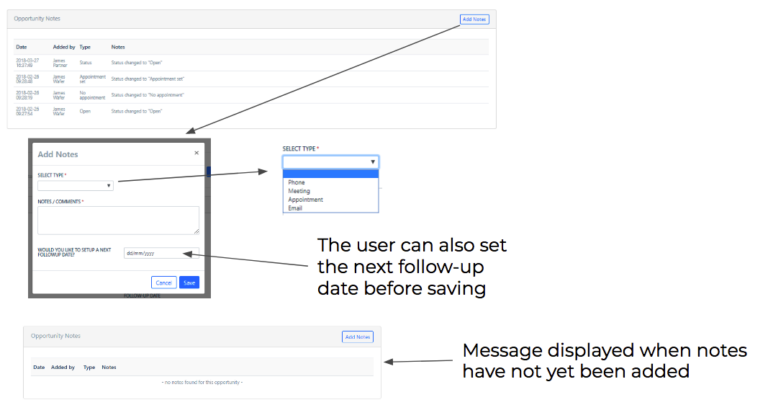 Exporting your Lead Opportunities
You can export your leads via the Leads > Results page. The file generated will be in .xlsx format and it will contain up to 30 leads (i.e. those which are those shown within the current page of results)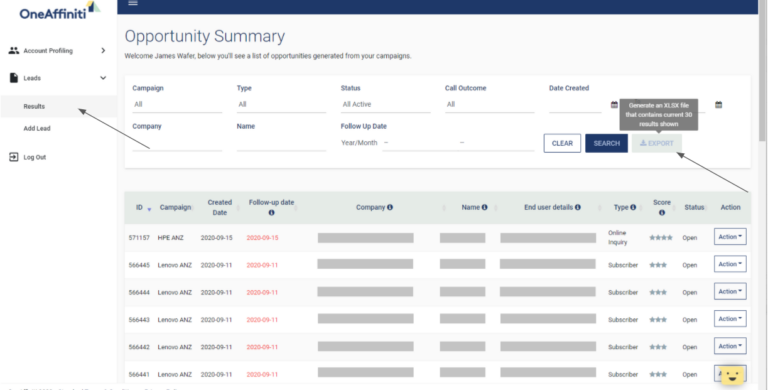 Within the file, and based on the leads being exported, your file may contain multiple 'worksheets'. 
"General Inquiries" which contains all 'phone', 'form' and 'subscriber' leads

This sheet contains 17 columns which cover all the lead basics (id, dates, contact details, budget, details, campaign specifics, etc.)

Other sheets will be specific to the content/form and be labeled based on the content title

This sheet contains 17 columns listed above + a column for every questions that was included in the survey forms.
Reach out to your Partner Marketing Consultant to discuss how best to manage leads with your team.
Check out our guide on how to followup lead opportunities or learn more about the Insights Hub here.
Last updated December 2021