New to Extu?
Everything you need to get started on the Extu Through Channel Marketing program, one click away…
Get Started
Current Partner?
Explore new program features and services to help you win more business
Learn More
We do all the heavy lifting
Servicing more than 3,000 channel partners globally, we offer a service-enabled technology platform designed to help you grow your business with minimal time and effort.
Unlike traditional marketing platforms, we have a team of professional marketers and sales professionals to assist you with executing and optimizing your campaigns each and every month.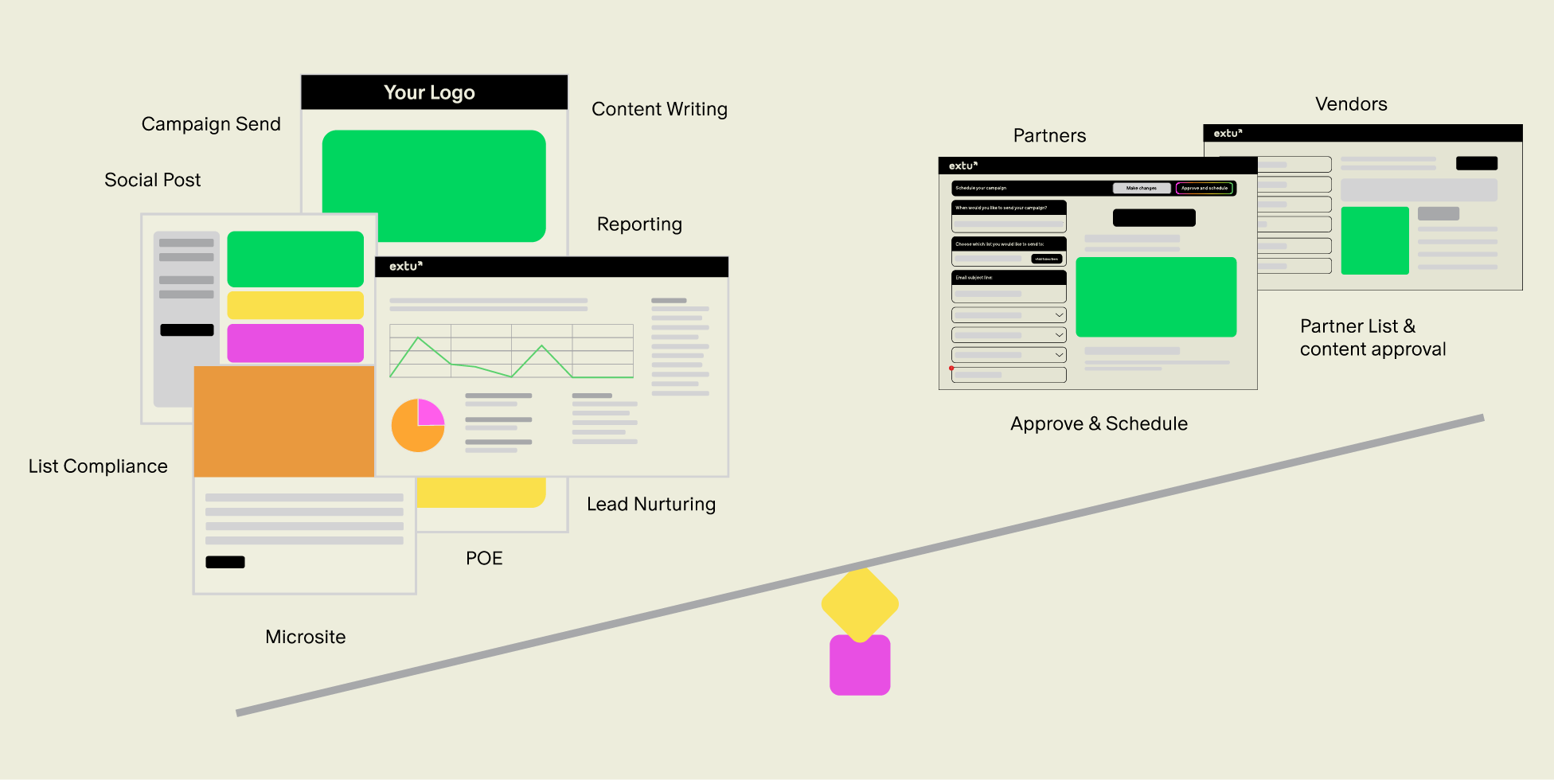 We work as an extension of your team
Vendor Engagement
Our vendor account team works closely with sponsors to ensure you have timely and relevant product material to engage your customers.
You won't work with them directly, but they are focused on getting all the material and support you need.
Marketing Insights
Our partner marketing consultants work with you to set up your account and assist you monthly to execute and optimize your campaigns for maximum results.
Campaign Management
Our global partner experience team will assist you with ongoing campaign execution and customization ensuring your campaigns go out on time each and every month.
See What Our Partners Have To Say
The biggest problem facing Small Business is understanding the consumer: How Do You Market to Millenials, GenX, GenY, and GenZ. As baby boomers, we need to focus on the problem of marketing to Millenials to provide the products and services for the new generation of startups.Extu is reaching out to all generations generating interest in our product line to help us market Lenovo computers across generations.As an SBA/Score mentor, I work with startups in developing marketing plans to market all consumers for many different products. I have incorporated many of the ideas from Extu in my Free Score Workshops.
love this organization. the articles are just right information, the headings are attention grabber and their site and its connection to my social media I good. thank you
Easy to use system, great content and very prompt helpful assistance when needed
Super easy to use, great content that is well written
OneAffinity has helped me to deliver highly informative and engaging content to my clients. Content that generates costomer interest and insight. I have been really impressed with the hands off and ease of the platform.
I appreciate the content created. It saves me time and effort that can be used to work on other projects.
Although I have never won any business from their campaigns, I appreciate their efforts to keep my business in front of people.
OneAffiniti is a fantastic marketing partner to work with!
OneAffiniti is a pleasure to work with . The people are professional, timely on getting back, and provide great content.
Great processes, easy to follow.The team very professional, responsive and great to work with, amazing value!
They offer a pretty automated, easy to use marketing tool. Once set up takes little time to manage.
OneAffiniti offers a great marketing tool for us to keep our clients in the loop with the monthly newsletter. We love the automation process and ease of use!
Next Reviews