Get Setup
For Success
Help us understand how best to support you
Complete the onboarding questionnaire so we can best tailor our services to you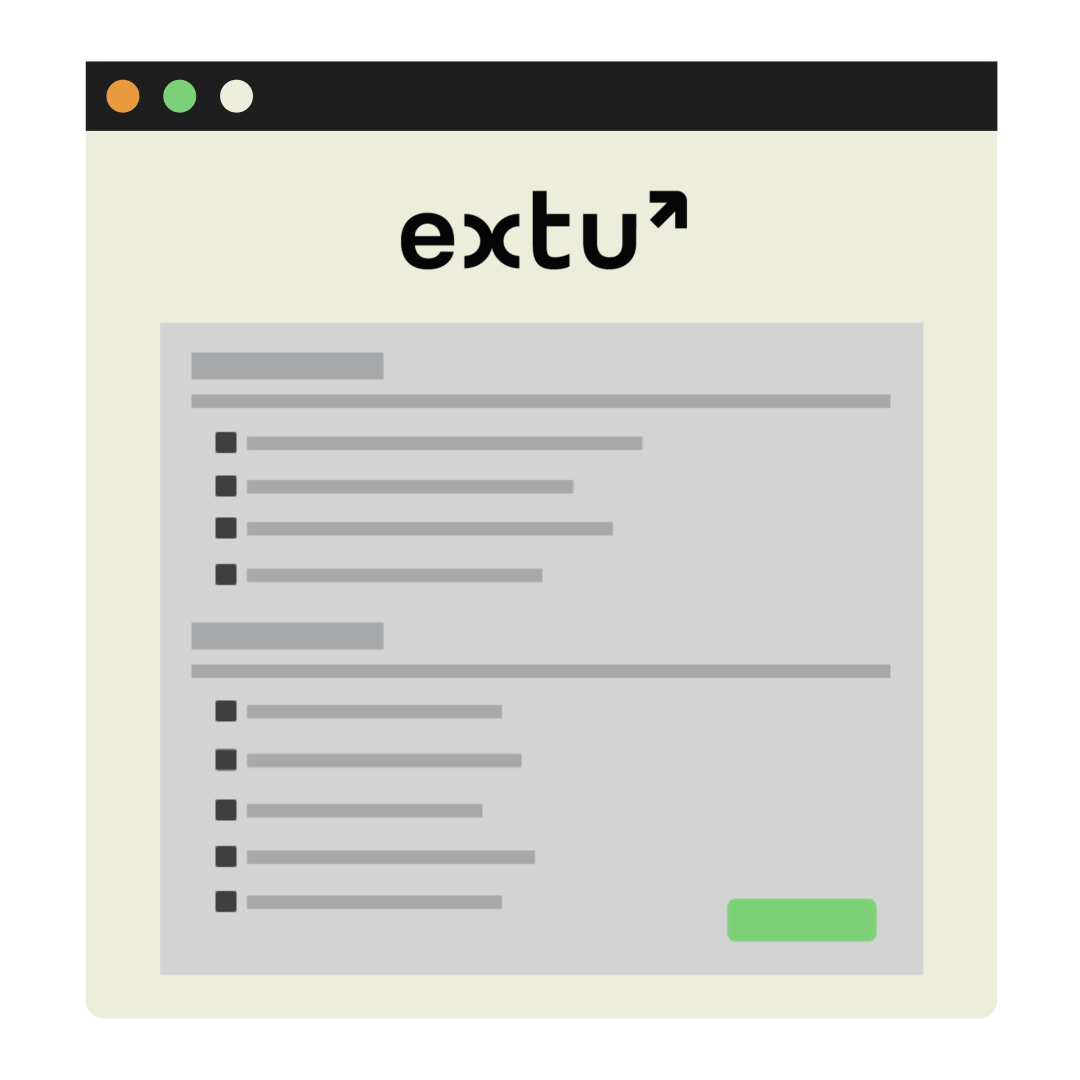 To ensure we can provide you with the best possible support through this program we need to better understand how you are currently resourced and what your communication preferences are.
The onboarding questionnaire takes less than 5 minutes to complete and ensures we understand:
---
Your current marketing resources & investments
Your personal communication preferences
Any relevant team members who should be across program communications
Your preferred date for sales reminders
Your Extu representative will send you the questionnaire to complete yourself or over the phone. Click the link below to have it resent.
Resend Onboarding Questionnaire
Why do we collect this information?
Marketing Resources
Current marketing investment
We offer a range of services on our program and knowing where and how you are currently investing in marketing helps us to tailor our services to your needs.
Understanding your marketing resourcing also helps us gain support with your sponsor for continued investment and allows us to track your growth overtime.
Your Preferences
Your communication preferences
Tell us what program communications you want to receive or not receive and we'll update our records. The following roles can be updated:
Adding & managing your subscriber list
Reviewing & approving your monthly campaigns
Authorizing your content to post to your LinkedIn pages
Reporting your monthly closed sales and sales status
Receiving & managing leads
Your Team
Add your team
There are many components of the program like leads and sales reporting that you may want to delegate to other team members (if applicable).
You can let us know which team members you'd to delegate tasks to or add to receive program communications.
Examples of staff you want to add and why:
Sales  – Follow up on leads received from campaigns
Purchasing – Monthly sales reporting & reminders
Sales Reminder
Choose your sales reminder date
Sharing closed sales is a necessary part of your continued participation in this program.
You can let us know the date each month you would like our team to followup with you.
We also recommend setting up a monthly reminder in your calendar so that you will remember to submit your sales summary or invoices.
Domain Authentication
Email authentication verifies that an email is actually from you or your business. Think of it like a digital signature: it protects your brand, identity, and reputation. It's one of the most important steps you can take to improve your deliverability.
This guide explains how to authenticate your sending domain and why it's important.

Whitelist Extu Emails
At Extu, we use emails as the primary way to send you timely and actionable information like when to review your campaign and when you to follow up a new lead generated from your campaign.
That's why it's important that you mark our email addresses as safe so that you can continue to receive important service-related information.
We've put together this guide on what is whitelisting, how to whitelist, and what the Extu emails are that you need to add to your contact list.